Inauguration
IIFT has launched its first-ever MA (Economics) Programme with Specialisation in Trade and Finance in both Delhi and Kolkata Campuses on Aug 01, 2018. A total of 30 students have taken admission in the first batch.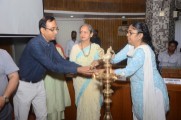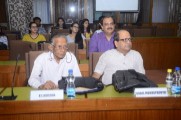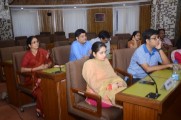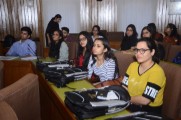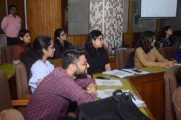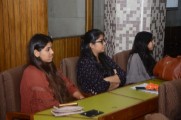 Programme Objectives
The specific objectives of the Programme are:
- To prepare students to become excellent trade policy-makers and key strategists on trade issues in the corporate sector, involved directly or indirectly in international trade and financial transactions.
- To equip students with a set of tools, which would help them to solve real world problems.
- To prepare students to be full-time academicians, with specialized knowledge in international economics and finance.
The Institute has over a half-a-century experience in working as a think tank to the Government of India. It regularly advices the government on issues related to trade through commissioned research reports. The expertise developed by such interactions and teaching applied issues to management students is expected to give a new dimension to the course not available in similar courses in other universities and institutes. Experienced faculty equipped with knowledge of Trade and Finance would guide the students to become managers and policy-makers of the future. Additionally, those oriented towards taking up academics as their career would benefit immensely from the rigorous courses taught in the programme.
Duration and Contents
1. The duration of the Programme is two years with two semesters (monsoon and winter) each year. The Courses are divided into two segments:
(i) Classroom Courses
(ii) Dissertation
2. Classroom Courses are designed to help students in understanding the concepts and techniques of economic theories and their application
3. Courses provide a good mix of theoretical and empirical knowledge to equip students both fundamental knowledge along with their application in real life.
4. Evaluation mechanism are designed through mid-term test, term-paper writing, class projects, etc. along with end-term examination for a holistic learning.
5. A Dissertation Project on any area of International Trade and Finance to be undertaken by a student on a topic approved by the Institute under the guidance of a faculty member of IIFT. Expenses incurred, if any, on the assignment shall be borne entirely by the student and the Institute shall have no financial responsibility in this respect.
Registration and Fee
All students selected for admission must register on the day of commencement of the Programme. Any extension of the period of registration may be granted by the Director to a student under exceptional circumstances.
Programme Calendar
| | | |
| --- | --- | --- |
| Semester | Duration | End Term Examination |
| Monsoon | August -November | December |
| Winter | January-April | May |
Fee of the Programme
| | | |
| --- | --- | --- |
| Installment | Date | Amount |
| First | At the Time of Admission | Rs. 100,000 /- + Rs.5000/-as Library Caution Money |
| Second | By 7th January 2019 | Rs. 85,000/-(including Rs.10,000/- As Alumni Fee) |
| Third | By 8th July 2019 | Rs. 1,00,000/- |
| Fourth | By 6th January 2020 | Rs. 75,000/- |
For SC/ST and PWD candidates – 50% concession in tuition fee
(FEE ONCE PAID WILL NOT BE REFUNDED)
List of Courses

Core Courses
Elective Courses
Course Title
Credits
Course Title
Credits
Advanced Topics in Macro Economics
5
WTO and Contemporary Trade issues
5
Basic Econometrics
5
International Trade and Business Law
5
Corporate Finance
5
Trade and Development
5
Empirical Issues in Trade
5
International Financial Management
5
International Financial Management
5
Equity & Fixed Income Markets
5
International Macro & Finance
5
Project Appraisal and Management
5
International Trade and Business Law
5
Empirical Issues in Trade
5
International Trade Theory
5
Adv Econometrics
5
Macroeconomic Theory
5
Theory of Contract ( focus on Trade and Financial Contract)
5
Mathematics for Economics
5
Commodity Derivatives and Risk Management
5
Microecnomic Theory-1
5
Financial Modeling
5
Microeconomic Theory-II
5
Financial Statement Analysis
5
Project Appraisal & Finance
5
Investment Theory
5
WTO & Contemporary Trade Issues
5
M& A and Valuations
5